Recently the infrastructure of construction around the world have entered the mature, but these projects all cannot do without a material -- sand. Sanme engineers said that due to the exploitation of many years, the current number of natural sand is rapidly reduced, and some areas of natural sand and even has been close to depletion or exhaustion, the number and quality are far from meeting the needs of the national infrastructure construction and other construction, so the mechanism of sand gradually into people's sight, and the mechanism of sand production can not be separated from the sand making machine.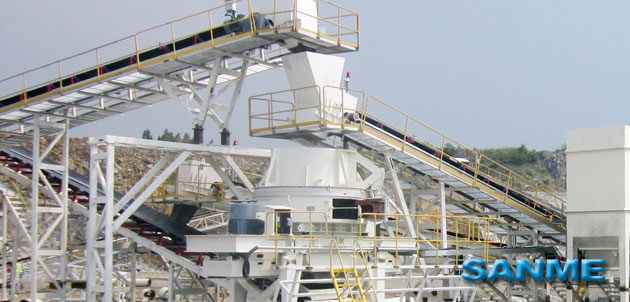 There are many types of sand making machine which can be used in artificial sand processing, however, because of the limitation of the feed size, the material of sand production is only four degree of fragmentation, and can be obtained. The super fine cone crusher because investment in high cost, low yield, high hardness of rock sand efficiency lower, and difficult to adapt to the large-scale artificial aggregate system. The operating cost of rod mill is high, and the labor is mild.
Vertical shaft impact crusher in design and other impact equipment rely on the same ore and hard objects all of a sudden impact. Therefore, they has a common basic characteristics with other impact crusher, its design is superior to the extrusion type. If the feed hole is large enough, the nature of the face of the mineral can be broken down to a very high particle size of the crushing ratio, and can produce a good product particles. Vertical shaft impact crushing machine's main advantages attributed to its unique design features, it can produce a formed good various size of high quality products and high productivity.
In addition, the cost of vertical impact crusher is lower than other machine. The damaged parts are very small, and can be made of hard metal, so the cost is lower. The vertical shaft impact crusher with advanced abrasion resistance material. Compared to the other types which mainly used for processing non abrasive material impact crusher, vertical shaft impact crushing machine has a so big advantage.