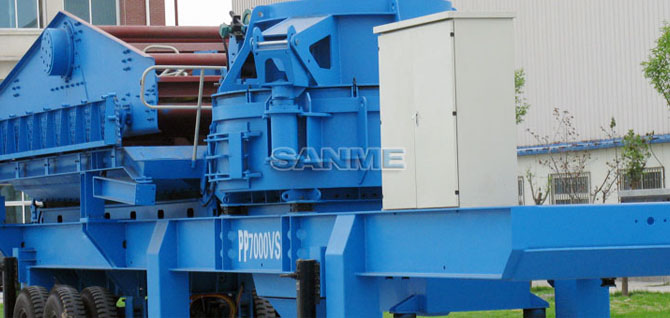 Portable Rock Crusher
Sanme portable rock crushers are manufactured with a four-point safety system which protects the user from potential harm. Because our portable rock crusher was built with the convenience and safety of the operator in mind, three things were key with this product: mobility, power & safety. Most portable rock crusher's with this power are bulky and hard to use, but Sanme portable rock crusher is manufactured with a suppression system that keeps dust pollution to a minimum. If you are looking for a small but powerful concrete crusher to get your job done, then this is the concrete crusher for you.
Portable Rock Crushers In Coal Mining:
Rock crusher machine is the main crushing machine used in the coal mining process plant. The crushing plant involves different kinds of processing equipment to process the coal into clients; desired size and quality. There is rock crusher, vibrating feeder, vibrating screen and the milling machine. Of course, the coal mining crushing stage includes the following machine: coal rock jaw crusher, coal rock impact crusher, coal rock cone crusher and the portable crushers.
Portable rock crusher can be also called mobile stone crusher plant. In coal portable crushing plant, the portable rock crusher, vibrating feeder, vibrating screen and belt conveyor cooperates with each other to accomplish the whole production needs. You can get the high quality and reasonable price of portable rock crushers for your mineral production line from Shanghai Sanme.
Portable rock crusher can be seen as a simple stone production line, widely used in railways, roads, buildings, water, metallurgy and other industries. Mobile crushing plant processes raw materials according to different requirements of the finished products , especially in breaking site, which is more suitable for construction wastedisposal, construction of garbage crusher. Stone portable machine is especially suitable for the small crushing site, construction waste processing and crushing.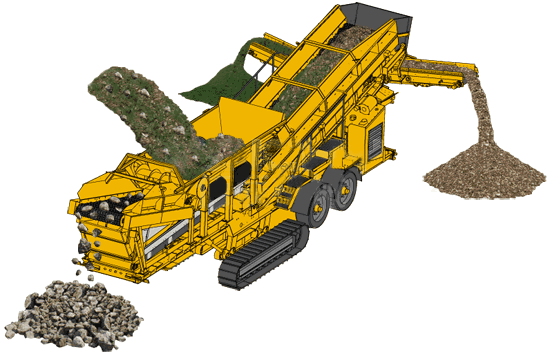 Working Principle of Portable Rock Crusher
Block stone will be evenly fed into jaw crusher from silo by vibrating feeder for primary crushing, then, the stone after primary crushing will be fed to the impact crusher by belt conveyor for further crushing; after further crushing, the stone will be fed into vibrating screen by belt conveyor for screening and getting stones with several different specifications, and then the stone that meets size requirements will be sent to finished stockpile by belt conveyor; while the other that does not meet the size requirements will be fed into the impact crusher by belt conveyor for re-crushing, so the above steps form a closed multiple cycles. The product size can be combined and graded according to the needs of users, and the portable aggregate plant can be equipped with auxiliary dust removal equipment for protecting the environment.