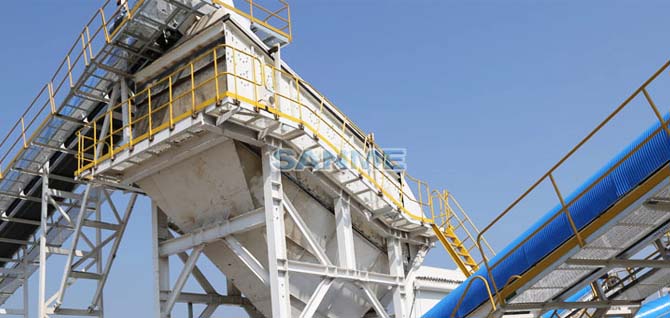 Vibrating Screen
YK Series Inclined Vibrating Screens are designed by our company through absorbing Germany advanced technology. It is equipped with adjustable amplitude, long drip line, multi-layered screening with distinct griller and high efficiency.Along with regular exposure to the elements and abrasive dust, vibrating screen experience high vibration and heavy loads. Frequent component failures result - a condition many operators simply consider a cost of doing business. If screen failures are catastrophic, damage to shafts and other components can drive repairs, downtime and costs. For equipment manufacturers, warranty and relationship issues are a concern.
Features and Technology Advantages:
1.Use the unique eccentric structure to produce powerful vibrating force.
2.The beam and case of screen are connected with high strength bolts without welding.
3.Simple structure and easy maintenance.
4.Adopting tire coupling and soft connection makes operation smooth.
5.High screen efficiency, great capacity and longer service life.
Structure:
Inclined vibrating screen is mainly composed of sieving box, mesh, vibrator, shock-mitigating device, underframe and so on. It adopts drum-type eccentric shaft exciter and partial block to adjust the amplitude, and installs the vibrator on the lateral plate of the sieving box, driven by the motor which makes the exciter swing speedily to produce centrifugal force and thus compels the sieving box vibrating. The lateral plate is made of the high quality steel plate while the side plate, beam and underframe of vibrators are connected by high strength bolts or ring-grooved rivet.
Working principle:
The motor makes the exciter rotating speedily through the V-belt. Besides, the great centrifugal force produced by rotating eccentric block makes the sieve box do circular motion of some amplitude, together with the impulse transmitted through sieve box on the slope surface, which makes the materials on the screen surface successively tossed forward. Thus the classification is achieved in the process of thrown-up as materials with smaller size than the mesh is falling through.
Usage and Maintenance:
Inclined vibrating screen should be started with empty load. Material is loaded after the machine works smoothly. Before stopping, the materials shall be totally discharged.Please observe the running state of screens constantly during the operation. If there is any unusual condition, should repair the breakdown.
Technical Data:
| | | | | | | | | | |
| --- | --- | --- | --- | --- | --- | --- | --- | --- | --- |
| Model | Screen Deck | Installation Slope(°) | Deck Size (m2) | Vibrating Frequency (r/min) | Double Amplitude (mm) | Capacity(m3/h) | Motor Power (kw) | Overall Dimensions (L×W×H) (mm) | Weight (kg) |
| 2YK1224 | 2 | 15 | 2.88 | 970 | 6-8 | 20-120 | 5.5 | 2673×2382×2027 | 1750 |
| YK1235 | 1 | 15 | 4.2 | 970 | 6-8 | 20-150 | 5.5 | 3710×2464×1450 | 1729 |
| 2YK1235 | 2 | 15 | 4.2 | 970 | 6-8 | 20-150 | 7.5 | 3705×2393×2339 | 2476 |
| 3YK1235 | 3 | 15 | 4.2 | 970 | 6-8 | 20-150 | 7.5 | 3621×2521×2581 | 3158 |
| 4YK1235 | 4 | 15 | 4.2 | 970 | 6-8 | 20-150 | 11 | 3510×2521×2830 | 4160 |
| YK1545 | 1 | 17.5 | 6.75 | 970 | 6-8 | 20-150 | 11 | 4904×3044×2179 | 3319 |
| 2YK1545 | 2 | 17.5 | 6.75 | 970 | 6-8 | 20-150 | 15 | 5042×3090×3165 | 5308 |
| 3YK1545 | 3 | 17.5 | 6.75 | 970 | 6-8 | 20-150 | 15 | 4972×3090×3395 | 5915 |
| 4YK1545 | 4 | 17.5 | 6.75 | 970 | 6-8 | 20-150 | 18.5 | 4915×3155×3804 | 7260 |
| YK1548 | 1 | 17.5 | 7.2 | 970 | 6-8 | 20-150 | 11 | 5190×3044×2186 | 3319 |
| 2YK1548 | 2 | 17.5 | 7.2 | 970 | 6-8 | 20-150 | 15 | 5265×3140×3208 | 5284 |
| 3YK1548 | 3 | 17.5 | 7.2 | 970 | 6-8 | 20-150 | 15 | 5200×3090×3440 | 6186 |
| 4YK1548 | 4 | 17.5 | 7.2 | 970 | 6-8 | 20-150 | 18.5 | 5200×3155×3849 | 7284 |
| YK1860 | 1 | 20 | 10.8 | 970 | 6-8 | 32-350 | 15 | 6302×3365×2992 | 4651 |
| 2YK1860 | 2 | 20 | 10.8 | 970 | 6-8 | 32-350 | 18.5 | 6020×3455×3756 | 6195 |
| 3YK1860 | 3 | 20 | 10.8 | 970 | 6-8 | 32-350 | 18.5 | 6020×3455×4180 | 7613 |
| 4YK1860 | 4 | 20 | 10.8 | 970 | 6-8 | 32-350 | 22 | 5963×3505×4463 | 8650 |
| YK2160 | 1 | 20 | 12.6 | 970 | 6-8 | 66-720 | 18.5 | 6302×3730×2992 | 4917 |
| 2YK2160 | 2 | 20 | 12.6 | 970 | 6-8 | 66-720 | 22 | 5966×3958×3975 | 6856 |
| 3YK2160 | 3 | 20 | 12.6 | 970 | 6-8 | 66-720 | 30 | 5966×3958×4400 | 9112 |
| 4YK2160 | 4 | 20 | 12.6 | 970 | 6-8 | 66-720 | 30 | 5966×3958×4780 | 11405 |
| YK2460 | 1 | 20 | 14.4 | 970 | 6-8 | 75-750 | 18.5 | 6302×4155×2992 | 5243 |
| 2YK2460 | 2 | 20 | 14.4 | 970 | 6-8 | 75-750 | 30 | 6027×4308×3975 | 8503 |
| 3YK2460 | 3 | 20 | 14.4 | 970 | 6-8 | 75-750 | 30 | 6027×4308×4400 | 10411 |
| 4YK2460 | 4 | 20 | 14.4 | 970 | 6-8 | 75-750 | 30 | 5966×4308×4780 | 12068 |
| 2YK2475 | 2 | 20 | 18 | 970 | 6-8 | 120-900 | 30 | 7812×4308×4642 | 10709 |
| 3YK2475 | 3 | 20 | 18 | 970 | 6-8 | 120-900 | 37 | 7718×4393×5033 | 13400 |
| 4YK2475 | 4 | 20 | 18 | 970 | 6-8 | 120-900 | 45 | 7718×4494×5361 | 15500 |
| YK3060 | 1 | 20 | 18 | 970 | 6-8 | 200-900 | 30 | 6302×4943×3108 | 14052 |
| 2YK3060 | 2 | 20 | 18 | 970 | 6-8 | 200-900 | 37 | 6207×4943×3985 | 17185 |
| 3YK3060 | 3 | 20 | 18 | 970 | 6-8 | 200-900 | 45 | 6207×4943×4485 | 19200 |
| 4YK3060 | 4 | 20 | 18 | 970 | 6-8 | 200-900 | 45 | 6207×4943×4785 | 21080 |