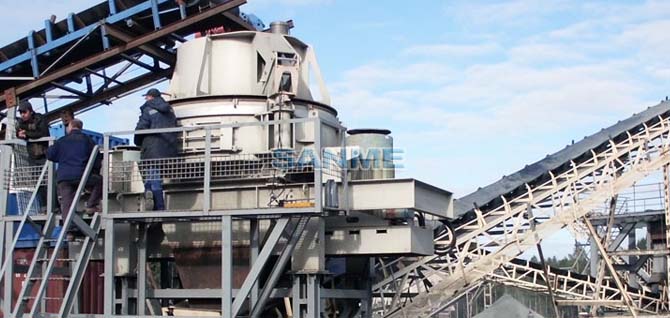 Vertical Shaft Impact Crusher
Vertical Shaft Impact Crusher produced by Shanghai Sanme Heavy Mining Machinery Co.,Ltd on September 9, 2006 has passed the test of national mine machinery quality monitoring inspection center(number 200609009 refers to the inspection report) which is the mine machinery majesty organization in China. The results show that 15 inspection index are all in line with the state level. One of the main technique index" the proportion of materials less than < 5mm occupying the throughput", with its actual measurement 64.52%, has been 20-50% better than that of the national level.
VSI Series Vertical Shaft Impact Crusher, a highly functioned equipment for sand making and shaping, is researched and produced by our corporation, absorbing advanced Germany technology and owned advanced world standards. Its performances play an irreplaceable part in various ore fine crushing equipments. The series of products combine two crushing models together and can continuously operate for 720 hours without stop. They have replaced traditional equipment such as hammer crusher, rod crushing mill and pin crusher and become the newest main equipments in sand making industries. Vertical Shaft Impact Crusher(sand maker) has two types:rock-on-rock and rock-on-iron. Rock-on-rock type is used to crush high abrasive materials while rock-on-iron is suitable for low abrasive materials. The sand production rate of rock-on-iron is 10-20% higher than that of rock-on-rock.
Vertical Shaft Impact Crusher Working Principle:
Material falls down to impeller cavity. Under great centrifugal force, it hits material that is flowing around the impeller as an umbel. After hitting each other, they force a vortex between impeller and shell and hit each other for several times, and finally smaller stone comes out and forms closed cycle. The required end product shape is controlled by the screen equipment.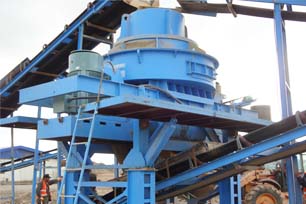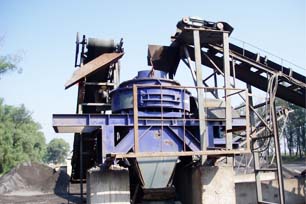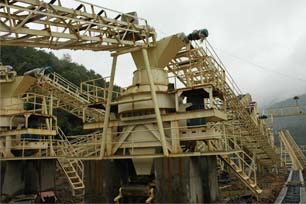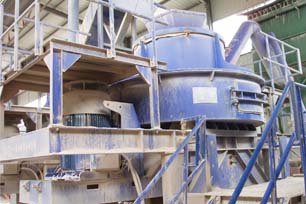 Vertical Shaft Impact Crusher Application Scope:
1.Artificial sand making for cobble, mountain rock(limestone, granite, basalt, diabase, andesite), ore gangue and stone chips.
2.Production for building aggregate, highway surface material, subcrust material, asphalt concrete and cement concrete aggregate.
3.Sand making production and aggregate shaping in project fields such as hydroelectric,senior road, highway, high speed railway, passenger special line, bridge, airfield runway, municipal project and high-rise building.
4.The forepart fine crushing craft of ore grinding in mine industries and material crushing in building material, metallurgy, chemical industry, mine, anti-fire material, cement and grinding material industries.
5.Suitable for environment projects such as high abrasiveness and secondary breaking, thermal power, desulphuration in metallurgical industries, steel slags and construction wastes.
6.Production for glass, quartz sand and other high purity materials.
Vertical Shaft Impact Crusher Product LineData Parameters:
| | | | | | | |
| --- | --- | --- | --- | --- | --- | --- |
| Model | Max Feed Size (mm) | Rotor Speed (r/min) | Capacity (t/h) | Motor Power (kw) | Overall Dimensions (L×W×H) (mm) | Weight (kg) |
| VSI3000 | 45(70) | 1700-2000 | 30-60 | 75-90 | 3080×1716×2126 | ≤5310 |
| VSI4000 | 55(70) | 1400-1620 | 50-90 | 110-150 | 4100×1916×2166 | ≤7840 |
| VSI5000 | 65(80) | 1330-1530 | 80-150 | 180-264 | 4300×2215×2427 | ≤11200 |
| VSI6000 | 70(100) | 1200-1400 | 120-250 | 264-320 | 5300×2728×2773 | ≤14590 |
| VSI7000 | 70(100) | 1000-1200 | 180-350 | 320-400 | 5300×2728×2863 | ≤16580 |
| VSI8000 | 80(150) | 1000-1100 | 250-380 | 400-440 | 6000×3000×3420 | ≤23450 |
| VSI9000 | 80(150) | 1000-1100 | 380-600 | 440-630 | 6000×3022×3425 | ≤23980 |